A CHALLENGE FOR YOUNG AND ADULTS
A CHALLENGE FOR YOUNG AND ADULTS
At Adventure Park we help young adults build self-confidence, bond and establish the best personal attributes in an outdoor setting.
OVERCOMING OBSTACLES IN A POSITIVE WAY AND DEVELOPING SKILLS
With over 40 obstacles, 4 zip-line slides, and a height of up to 14 meters, this treetop experience lasts about 2 hours and will test your courage.
Challenge your group of friends, colleagues or family members to complete the Mega Circuit.
Our adventures are the perfect activity for small and large groups. Create bonds by helping and encouraging each other during the trek.
older than 18 years
20€/pax
younger than 18 years old
16,50€/pax
Monitor
15 €
under 18 years old (See Supervisory Ratio – Reservation Required)
Supervision Ratios
1 Adult (+ 18) – 2 Young minors
1 monitor Adventure Park – 8 young minors (15€)
To do the Mega Circuit, young minors need the authorization and signature of a legal guardian, even if an Adventure Park monitor is required for follow-up during the activity. Minors are supervised by adults (18 years and older) and never from the ground. A participating adult can supervise up to two younger children.
Whatever the occasion, you can contact our event coordination team for a proposal.
INCLUDE
Welcome and personalized briefing;
Monitoring by monitors;
Rental of material for carrying out the activity;
Personal accident insurance;
Outdoor picnic table;
Minimum 10 participants;
OPTIONAL
(Budget on request and availability)
Shed Rental: Half Shed (2h) – 30€; Whole shed (2h) – 80€; Whole period (morning or afternoon) – 130€;
Monitors to track minors in the Mega Forest Circuit 15€ (up to 8 minors);
Menus: Mogli: Mixed Sandwiches, potatoes and juices – 7.5€/pax
Tarzan: Pizzas and juices – 10€/pax
Jane: Chickens
Photographic session (Budget on request);
Video session (Budget on request );
Amazing place! Exactly what an adventurous place should be!
Deux parcours proposés, un pour les enfans et un pour les ados/adultes. Comptez 1h/1h30 pour fair ele parcours adulte (suivant la fréquentation) Parcours agréable mais sans grande difficulté. 20€ per head for adults.
Excellent place, I recommend buying the packages so you can enjoy the whole park. It´s really cool to go with friends, partners or family.
I would definitely recommend it! Bring old clothes as at bottom of Ziplines it gets a little dusty. Quite a workout too but accessible to those who are less fit also. Guides are very friendly and safe. I would go again.
Mucha aventura y adrenalina.
Offer a gift voucher to whom you like!
A perfect gift to friends, family, and colleagues.
Offer adventure and an unforgettable experience!
Buy Gift Voucher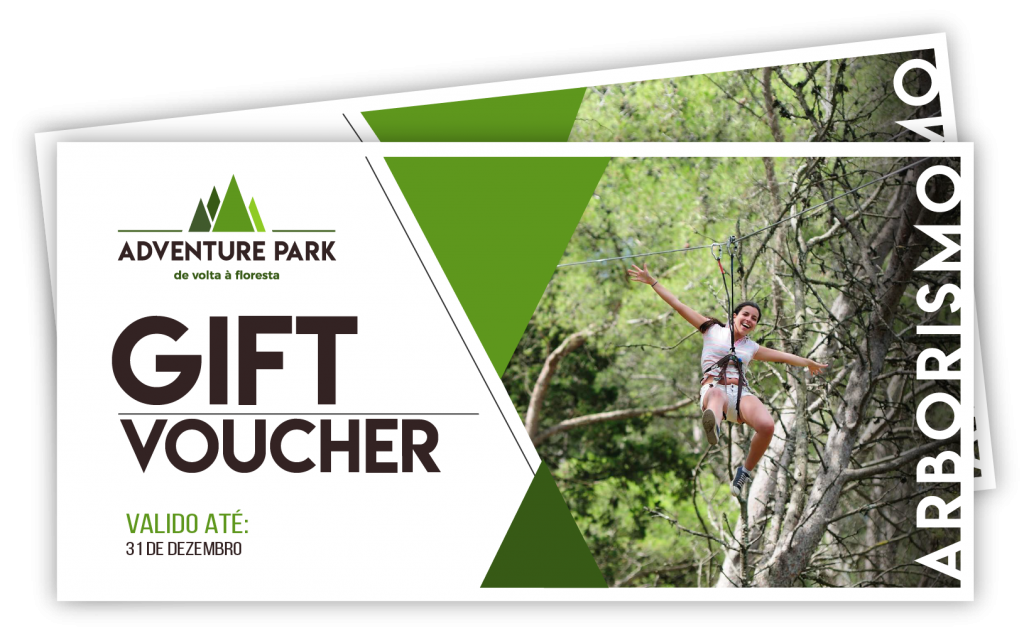 Buy Gift Voucher