A CHALLENGE FOR YOUNG AND ADULTS
A CHALLENGE FOR YOUNG AND ADULTS
At Adventure Park we help young adults build self-confidence, bond and establish the best personal attributes in an outdoor setting.
OVERCOMING OBSTACLES IN A POSITIVE WAY AND DEVELOPING SKILLS
With over 40 obstacles, 4 zip-line slides, and a height of up to 14 meters, this treetop experience lasts about 2 hours and will test your courage.
Challenge your group of friends, colleagues or family members to complete the Mega Circuit.
Our adventures are the perfect activity for small and large groups. Create bonds by helping and encouraging each other during the trek.
older than 18 years
20€/pp
younger than 18 years old
16,50€/pp
Monitor
15 €
under 18 years old (See Supervisory Ratio – Reservation Required)
Supervision Ratios
1 Adult (+ 18) – 2 Young minors
1 monitor Adventure Park – 8 young minors (15€)
A participating adult (18 years and over) is required to supervise up to two young minors. Participating adults cannot supervise from the ground. To perform the Mega Circuit, young minors need the authorization and signature of a legal guardian, even if an Adventure Park monitor is required to accompany the activity. Young people are supervised by adults (18 years and older) and never from the ground. A participating adult can supervise up to two younger children.
Whatever the occasion, you can contact our event coordination team for a proposal.
INCLUDE
Welcome and personalized briefing;
Monitoring by monitors;
Rental of material for carrying out the activity;
Personal accident insurance;
Outdoor picnic table;
Minimum 10 participants;
OPTIONAL
(Budget on request and availability)
Shed Rental: ½ – 2 h -30€; Whole shed 2h – 80€; Whole period morning or afternoon 130€;
Monitors to track minors in the Mega Forest Circuit 15€ – up to 8 minors;
Facil painting: 3€/pp;
Custom t-shirts: 10€/pp;
Certification of participation 2€/pp;
Menu: Mogli: Mixed Sandwiches, potatoes and juices – 5€/pp
Tarzan: Pizzas and juices – 7,50 €/pp
Jane: Chickens
Photographic session (Budget on request);
Video session (Budget on request );
Experiencia brutal! Uma especial salva de palmas ao Tarzan, que nos oference uma experiencia de adrenalina brutal!
Parque muito agradável para descontrair em família ou amigos! Muito limpo e equipamentos em perfeito estado de conservação, para um divertimento "radical" em segurança. Mesmo junto ao campo de tiro!
É muito fixe e curti bué!
Excelente Parque Aventura para passar bons momentos com família e amigos!!! Local excelente ao ar livre, cheio de zonas verdes, e bonitas paisagens. Óptimo para passar uma tarde de diversão, que abrange todas as idades.
Fácil de encontrar usando Google maps, estacionamento gratuito no exterior. O lugar era calmo quando eu fui com dois meninos adolescentes jovens. Eles fazem um excelente negócio para explicar tudo e fazer você se sentir seguro. Recomendo! Linhas de tirolesa são divertidas!
Offer a gift voucher to whom you like!
A perfect gift to friends, family, and colleagues.
Offer adventure and an unforgettable experience!
Buy Gift Voucher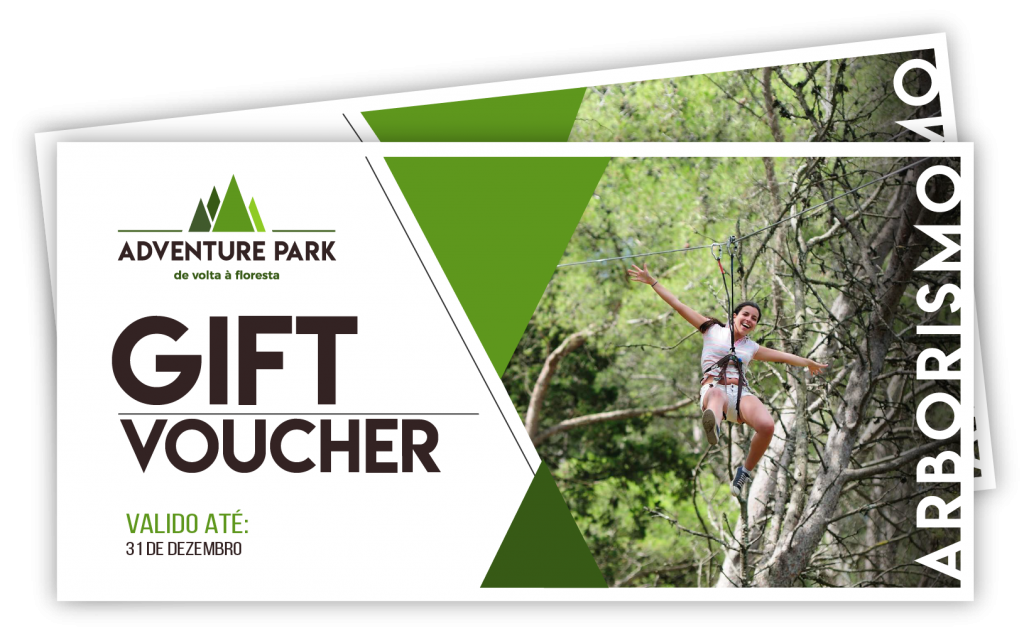 Buy Gift Voucher