CORPORATE EVENTS
CORPORATE EVENTS
Need to leave the office with your team?
Turn your corporate event into an adventure by challenging your team to overcome obstacles, overcome fears and work as a team to complete the treetop adventure treks.
Adventure Park is a great venue for outdoor corporate events. Your team will spend about 2 hours on the treetops, overcoming obstacles over 13 meters high, sliding down 200 meters and uniting in an incredible experience that will foster employee relationships.
WE OFFER PERSONAL CHALLENGES EXPERIENCED AS A TEAM, IN AN ACTIVITY THAT FOSTERS CONTACT WITH NATURE.
Whether up on the trees or on the ground, we have a series of activities designed to divert attention from everyday life for a fun, challenging and highly rewarding day that will be the perfect way to bring your team together and release the week's accumulated stress.
In the end, everyone will feel ready to take on new challenges!
With full day or half day packages, rain or shine, our staff will work with you to tailor the day at Adventure Park to your needs and make your adventure truly unique.
Whatever the occasion, you can contact our event coordination team for a proposal.
SUPERVISION RATIOS
ONLY TO THE MEGA CIRCUIT ACTIVITY
1 Adult (+ 18) – 2 Young minors
1 monitor Adventure Park – 8 young minors (15€)
To do the Mega Circuit, young minors need the authorization and signature of a legal guardian, even if an Adventure Park monitor is required for follow-up during the activity. Minors are supervised by adults (18 years and older) and never from the ground. A participating adult can supervise up to two younger children.
Whatever the occasion, you can contact our event coordination team for a proposal.
INCLUDE
Accomplishment of one or more adventures: Arborism, Canoeing, Orientation or Laser Combat;
Welcome and personalized briefing;
Monitoring by monitors;
Rental of material for carrying out the activity;
Personal accident insurance;
Outdoor picnic table;
OPTIONAL
(Budget on request and availability)
Possibility of space exclusivity;
Possibility of packs of various adventures: tree climbing, canoeing, orientation and laser combat;
Shed Rental;
Certificate of participation (Budget on request);
T-shirts personalized (Budget on request);
Menu: Mogli: sandwich, potato, and juice – 7.5€/pax;
Tarzan: Pizzas and juices – 10€/pax
Jane: Chicken;
Raincoats personalized (Budget on request);
Technical materials: projector, paper, pens;
Photographic session (Budget on request);
Video session (Budget on request );
Experiencia brutal! Uma especial salva de palmas ao Tarzan, que nos oference uma experiencia de adrenalina brutal!
Experiência simpática, a roçar o "radical" na pista "maior", com transposição de obstáculos via aérea (entre pinheiros) e uma dose de adrenalina a acompanhar. As partes do circuito terminam com um sempre apetecível slide. Óptima forma de passar uma manhã/tarde de forma saudável e "ganhar apetite".
A repetir! Muito bom! Mega circuito é espetacular! Malta muito porreira!
Bem cuidado, tudo arranjado, muito bom!
Tivemos um grande momento. Diversão e muita adrenalina. Nós nos sentimos muito bem no topo das árvores, até mesmo quando parece que você não conseguir fazer isso. Monitores muito úteis. Não se preocupe, é seguro. Não se esqueça de usar tênis.
Offer a gift voucher to whom you like!
A perfect gift to friends, family, and colleagues.
Offer adventure and an unforgettable experience!
Buy Gift Voucher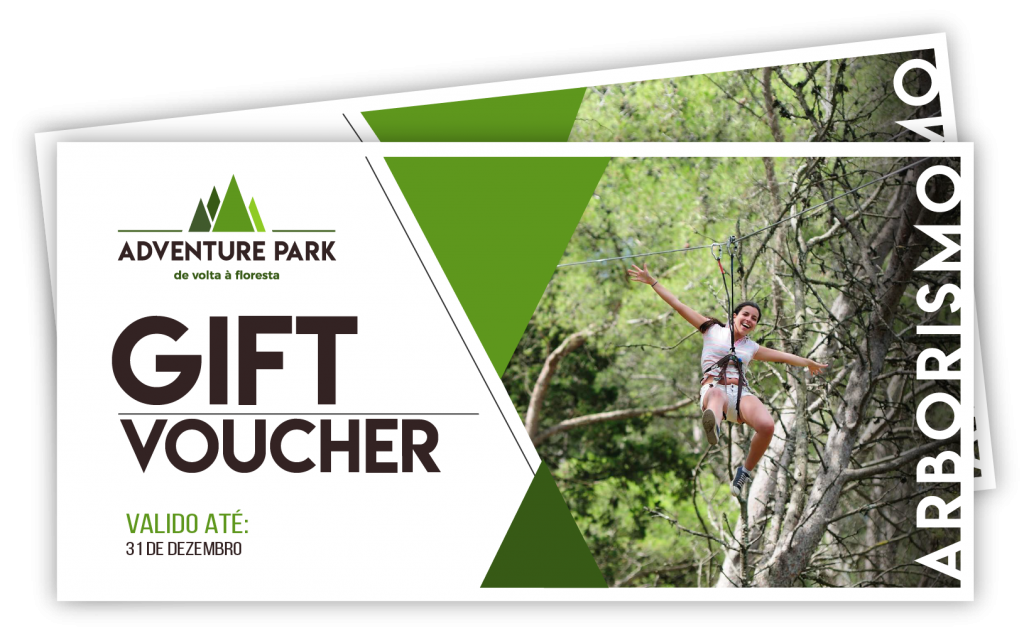 Buy Gift Voucher