Broaden horizons
Broaden horizons
Overcome the physical and mental challenges with a journey through the treetops in an amazing forest location. Our adventurous days are tailored to meet individual and group needs. Ready to plan an unforgettable outdoor activity day for your group? Ask for a quote.
MEGA CIRCUIT IS THE PERFECT OUTDOOR ACTIVITY FOR UNIVERSITY GROUPS
Active, adventurous and ready for a challenge? Climb the trees to take on our largest treetop adventure trek with epic zip-line slides and Tarzan Swings.
Challenge your group in our fun and unforgettable treetop adventure that encourages camaraderie and awareness to the need of preserving our forests.
With over 40 obstacles, it's a 2-3 hour experience and the perfect activity for small and large groups. It promotes unity and bonding by helping and encouraging each other throughout the trek.
MEGA FOREST CIRCUIT
20€/pp
MEGA FOREST CIRCUIT
16,50 €
University Card
Rácios de supervisão
APENAS PARA A REALIZAÇÃO DA ATIVIDADE MEGA CIRCUITO
1 Adulto (+ 18) – 2 Jovens menores
1 monitor Adventure Park – 8 jovens menores (15€)
Um adulto participante (18 anos ou mais) é obrigado a supervisionar até dois jovens menores. Os adultos participantes não podem supervisionar a partir do solo. Para realizar o Mega Circuito, os jovens menores de idade necessitam da autorização e assinatura de um responsável legal, mesmo sendo requisitado um monitor do Adventure Park para acompanhamento durante a atividade. Os jovens são supervisionados por adultos (com 18 anos ou mais) e nunca a partir do solo. Um adulto participante pode supervisionar até dois jovens menores.
Seja qual for a ocasião, pode entrar em contacto com a nossa equipa de coordenação de eventos para obter uma proposta.
INCLUI
Realização do Mega circuito
Acolhimento e briefing personalizado;
Acompanhamento por monitores;
Aluguer de material para a realização da atividade;
Seguro de acidentes pessoais;
Mesa para piquenique a descoberto (Mínimo: 8 participantes);
OPCIONAIS
(Orçamento sob consulta e disponibilidade)
Possibilidade de exclusividade do espaço;
Possibilidade de packs de várias aventuras: canoagem, orientação e combate laser;
Aluguer do Telheiro;
T-shirts personalizadas;
Certificado de participação;
Menu: Mogli: sandes mistas, batatas e sumos – 5€ pax;
Tarzan: pizzas e sumos – 7,50€ pax;
Jane: Frangos
Capas de chuva personalizadas;
Reportagem fotográfica (Orçamento sob consulta);
Reportagem vídeo (Orçamento sob consulta);
Parece se muito agradável para as crianças se divertirem.
Hoje o dia foi passado entre árvores. O meu filho fez 10 anos e a festa é sempre uma questão complicada… Onde fazer? Como fazer? Quanto pagar? Este ano tudo se tornou simples. Nem tenho palavras para agradecer o que fizeram!
Bom espaço para os mais pequenos!
Muito bom! Fiz a festa de aniversário do meu filho e só tenho a dizer bem. Desde a disponibilidade dos monitores à simpatia. As crianças adoram e os adultos também.
Espetacular para passear. Para festas de aniversário.
Offer a gift voucher to whom you like!
A perfect gift to friends, family, and colleagues.
Offer adventure and an unforgettable experience!
Buy Gift Voucher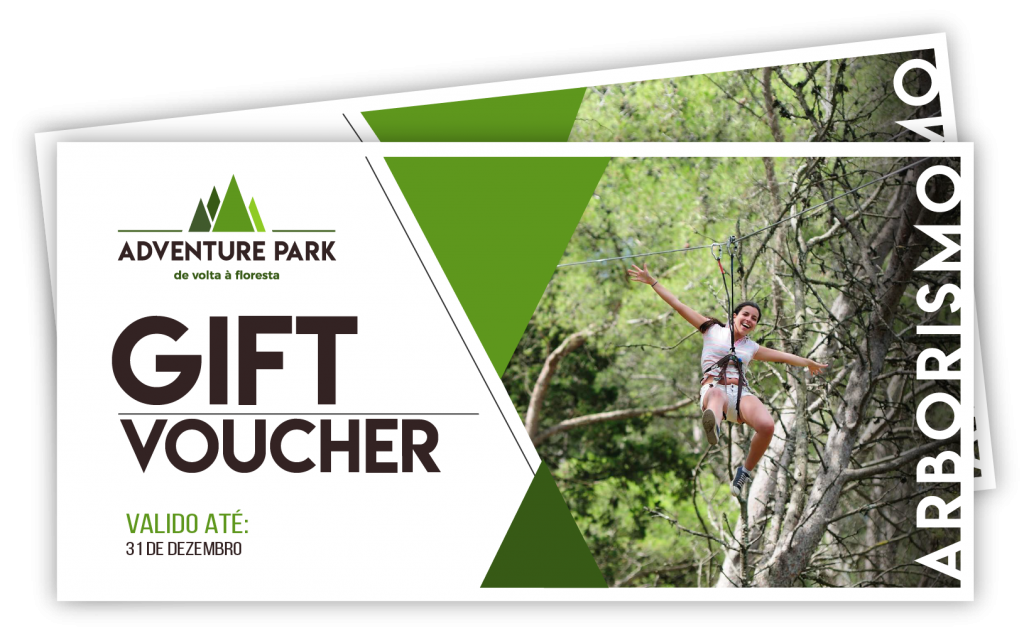 Buy Gift Voucher