FAMILY MOMENTS
FAMILY MOMENTS
Looking for a family outdoor activity? You've found the ideal place! Adventure Park is a treetop adventure park where you can spend fun and exciting moments with your family. Back to the forest!
NO ADVENTURE PARK VAI AT ADVENTURE PARK YOU WILL PLAY AND HAVE FUN IN AN OUTDOOR ENVIRONMENT AS A FAMILY
Bring your family to the outdoors. At Adventure Park you will have unforgettable moments, strengthen bonds and promote physical activities for the entire family.
Treetop adventure trekking is a great activity to encourage children, young people and adults to lead a life closer to nature and to be more inquisitive.
You will see your family facing obstacles and how they react and advance.
Adventure Park has in its adventure parks 2 treetop adventure treks to gather the family:
Little Forest Circuit
12,50€/pax
MEGA CIRCUIT
16,50 €/pax
minors 18
(See supervision ratio)
MEGA CIRCUIT FAMILY PACK
55€
(up to 4 people: Parents and 2 children, Father/Mother and siblings, or 4 siblings)
Monitor
15€
minors 18
(See supervision ratio)
Supervision Ratios Mega Circuit
FOR MEGA CIRCUIT ACTIVITY ONLY
Adult (+ 18) – 2 Young Minors
 1 Adventure Park monitor – 8 young children (15 €)
To do the Mega Circuit, young minors need the authorization and signature of a legal guardian, even if an Adventure Park monitor is required for follow-up during the activity. Minors are supervised by adults (18 years and older) and never from the ground. A participating adult can supervise up to two younger children.

Whatever the occasion, you can contact our event coordination team for a proposal.
INCLUDE
Welcome and personalized briefing;
Monitoring by monitors;
Rental of material for carrying out the activity;
Personal accident insurance;
Outdoor picnic table (Minimum 8 participants)
OPTIONAL
(Budget on request and availability)
Shed Rental: Half Shed (2h) – 30€; Whole shed (2h) – 80€; Whole period morning or afternoon – 130€;
Monitors to track minors in the Mega Forest Circuit 15€ (up to 8 minors);
Menus: Mogli: Mixed Sandwiches, potatoes and juices – 7.5€/pax; Tarzan: Pizzas and juices – 10€/pax ; Jane: Chickens
Photographic session (Budget on request);
Video session (Budget on request);
Nice place for kids to spend their energy.
Amazing place! Exactly what an adventurous place should be!
One of the best places to have fun in Lisbon. A completely different experience! It has activities for children and grown-ups.
Mucha aventura y adrenalina.
Offer a gift voucher to whom you like!
A perfect gift to friends, family, and colleagues.
Offer adventure and an unforgettable experience!
Buy Gift Voucher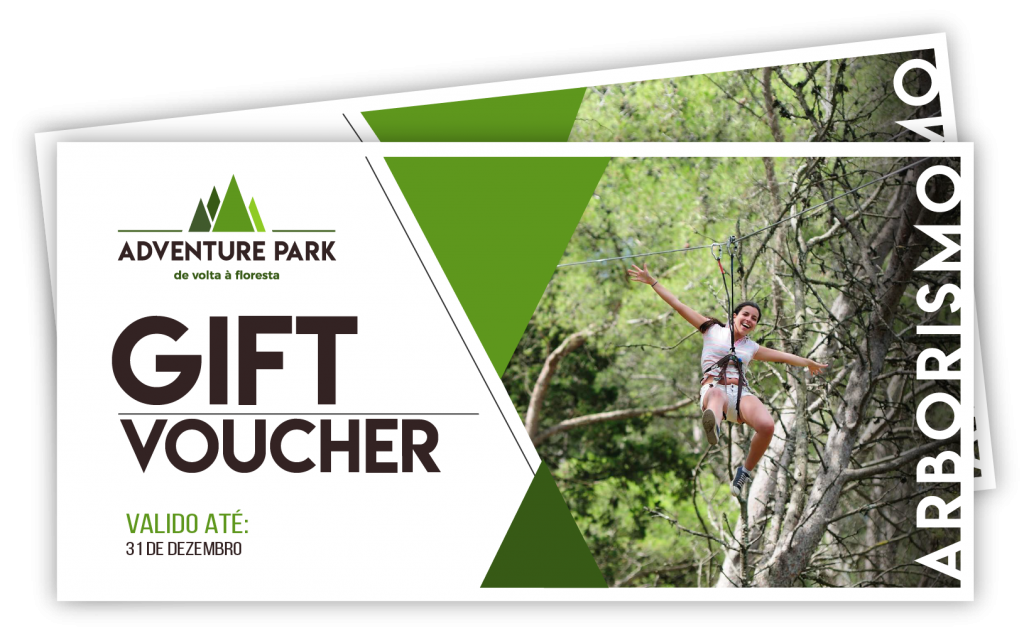 Buy Gift Voucher