FAMILY MOMENTS
FAMILY MOMENTS
Looking for a family outdoor activity? You've found the ideal place! Adventure Park is a treetop adventure park where you can spend fun and exciting moments with your family. Back to the woods!
NO ADVENTURE PARK VAI AT ADVENTURE PARK YOU WILL PLAY AND HAVE FUN IN AN OUTDOOR ENVIRONMENT AS A FAMILY
Bring your family to the outdoors. At Adventure Park you will have unforgettable moments, strengthen bonds and promote physical activities for the entire family.
Treetop adventure trekking is a great activity to encourage children, young people and adults to lead a life closer to nature and to be more inquisitive.
You will see your family facing obstacles and how they react and advance.
Adventure Park has in its adventure parks 2 treetop adventure treks to gather the family:
Pequena Floresta
12,50€/pax
MEGA CIRCUITO
16,50 €/pax
menores 18
(Ver rácio de supervisão)
MEGA CIRCUITO PACK FAMÍLIA
55€
(até 4 pessoas)
Monitor
15€
menores de 18 anos
(ver rácio supervisão)
Rácios de supervisão Mega Circuito
APENAS PARA A REALIZAÇÃO DA ATIVIDADE MEGA CIRCUITO
1 Adulto (+ 18) – 2 Jovens menores
1 monitor Adventure Park – 8 jovens menores (15€)
Um adulto participante (18 anos ou mais) é obrigado a supervisionar até dois jovens menores. Os adultos participantes não podem supervisionar a partir do solo. Para realizar o Mega Circuito, os jovens menores de idade necessitam da autorização e assinatura de um responsável legal, mesmo sendo requisitado um monitor do Adventure Park para acompanhamento durante a atividade. Os jovens são supervisionados por adultos (com 18 anos ou mais) e nunca a partir do solo. Um adulto participante pode supervisionar até dois jovens menores.
Seja qual for a ocasião, pode entrar em contacto com a nossa equipa de coordenação de eventos para obter uma proposta.
INCLUI
Welcome and personalized briefing;
Monitoring by monitors;
Rental of material for carrying out the activity;
Personal accident insurance; Outdoor picnic table (Minimum 8 participants)
(Orçamento sob consulta e disponibilidade)
OPCIONAIS
Shed Rental: ½  – 2 h -30€; Whole shed 2h – 80€; Whole period morning or afternoon  130€;
Possibility of packs with other activities: canoeing, orientation, laser tag;
Monitors to track minors in the Mega Forest Circuit 15€ – up to 8 minors;
Custom t-shirts: 10€/pp;
Certification of participation 2€/pp;
Menu: Mogli: Mixed Sandwiches, potatoes and juices – 5€/pp
Tarzan: Pizzas and juices – 7,50 €/pp
Jane: Chickens
Mini fridge (rental) – 5€;
Photographic session (Budget on request); Video session (Budget on request );
Espetacular para passear. Para festas de aniversário.
Bom espaço para os mais pequenos!
Optimo para disfrutar o ar livre e ter uma experiência com uma actividade física e aventura controlada. Excelente para festas de crianças, para grupos de amigos e ter experiências de aventura sem risco.
Hoje o dia foi passado entre árvores. O meu filho fez 10 anos e a festa é sempre uma questão complicada… Onde fazer? Como fazer? Quanto pagar? Este ano tudo se tornou simples. Nem tenho palavras para agradecer o que fizeram!
Super parc pour les grands et les petits. Très bonne équipe d´encadrement, spécialement Marta qui nous a super bien assisté pendant toute la durée de la matinée d´anniversaire organisée là-bas. Les enfants vont s´en longtemps.
Offer a gift voucher to whom you like!
A perfect gift to friends, family, and colleagues.
Offer adventure and an unforgettable experience!
Buy Gift Voucher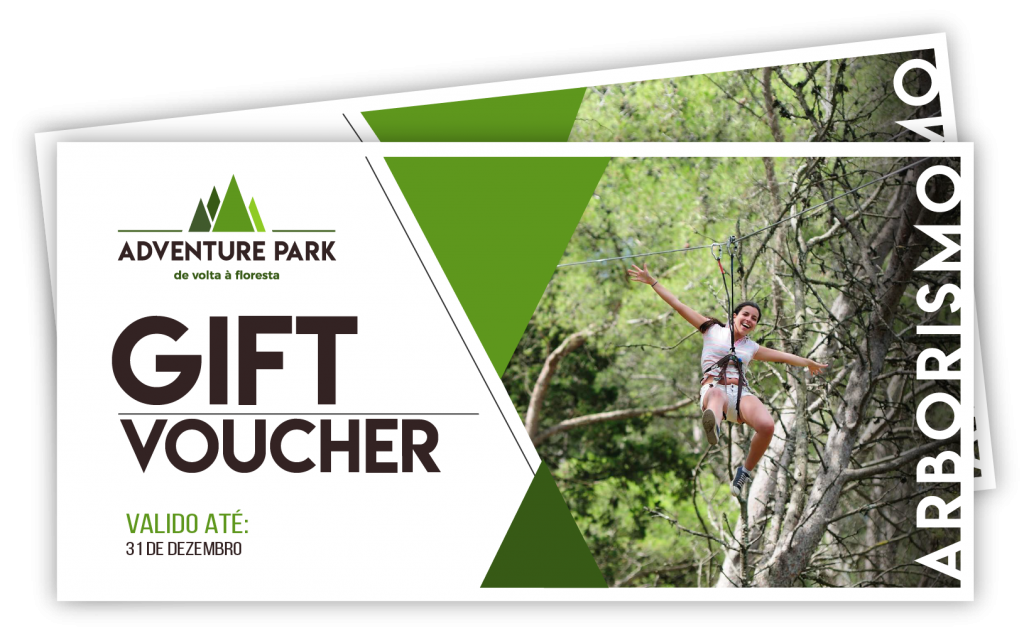 Buy Gift Voucher