BACHELOR & BACHELORETTE PARTIES
Bachelor & Bachelorette Parties
Bachelor & Bachelorette Parties
Have your bachelor party on an epic treetop adventure!
A GREAT IDEA FOR YOUR  BACHELOR PARTY IN LISBON
Our Mega Circuit will take your group through an immersive 2 hour treetop experience. With over 40 suspended obstacles and four exciting 200-meter zip-line slides, our fun and challenging aerial adventure treks are the perfect way to increase excitement and fun, bond and create lasting memories of this life event!
Supervision Ratios
1 Adult (+ 18) – 2 Young minors
1 monitor Adventure Park – 8 young minors (15€)
A participating adult (18 years and over) is required to supervise up to two young minors. Participating adults cannot supervise from the ground. To perform the Mega Circuit, young minors need the authorization and signature of a legal guardian, even if an Adventure Park monitor is required to accompany the activity. Young people are supervised by adults (18 years and older) and never from the ground. A participating adult can supervise up to two younger children.
Whatever the occasion, you can contact our event coordination team for a proposal.
INCLUDE
Welcome and personalized briefing;
Monitoring by monitors;
Rental of material for carrying out the activity;
Personal accident insurance;
Outdoor picnic table;

OPTIONAL
(Budget on request and availability)
Possibility of space exclusivity;
Possibility of packs of various adventures: canoeing, orientation, and laser combat;
Shed Rental;
Certificate of participation;
T-shirts personalized;
Menu: Mogli: sandwich, potato, and juice – 5€/pp;
Tarzan: Pizzas and juices – 7,5 €/pp
Jane: Chicken; ;
Raincoats personalized;
Photographic session (Budget on request);
Video session (Budget on request );
Vale mesmo a pena fazer o circuito grande!
Em dúvida, a opção que der a história mais interessante para contar é a melhor! Tem uma paisagem incrível e leva-nos sempre a tentar sair da nossa zona de conforto, mas em segurança absoluta. É um programa alternativo bastante divertido e cheio de adrenalina, que recomendo vivamente.
Circuito longo e muito interessante. Bom para principiantes e mais experientes.
Equipe muito profissional! Nós fomos com um grupo, como parte de uma despedida de solteira, e todos os instrutores foram muito simpáticos, profissionais e solidários. As tirolesas foram especialmente boas.
Muita diversão e adrenalina, numa actividade completamente diferente do habitual. Funcionários extremamente simpáticos, e actividade muitíssimo segura, aconselho vivamente! Adorámos!
Offer a gift voucher to whom you like!
A perfect gift to friends, family, and colleagues.
Offer adventure and an unforgettable experience!
Buy Gift Voucher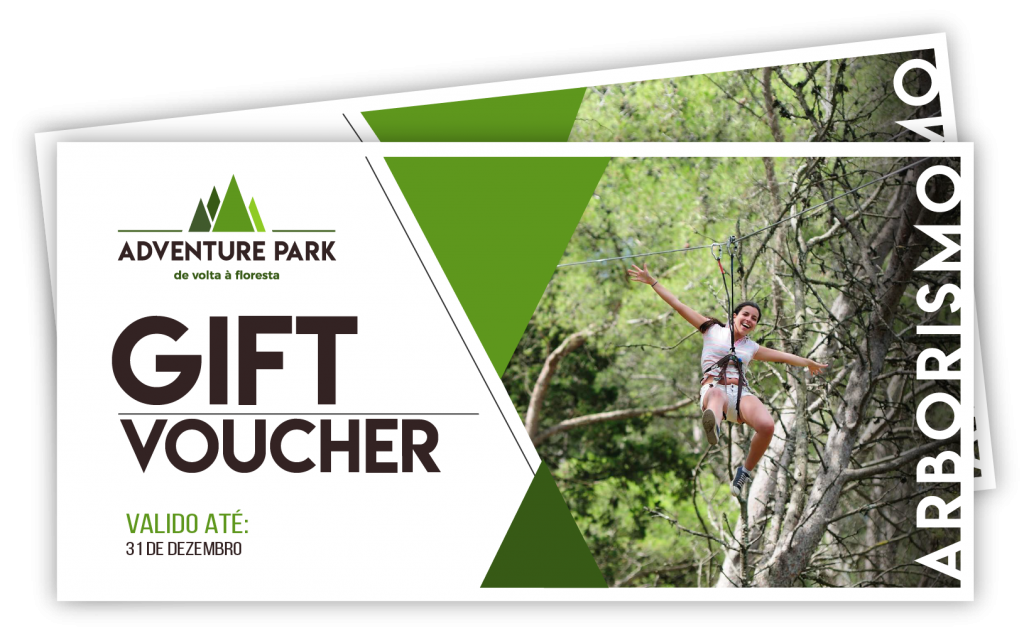 Buy Gift Voucher