What is Mega Circuit?
What is Mega Circuit?
MEGA CIRCUIT is one of the largest treetop adventure treks in the Iberian Peninsula. Much more than a set of suspended obstacles, it is a two-hour trip through the treetops of the forest. Awaken all senses in an absorbing and visually stunning forest setting. Ideal for young and adult adventurers.
Mega Circuit
More than a treetop climbing circuit, it is an exciting forest journey.
The Mega Circuit is where you will truly test your mental and physical skills on a treetop challenge.
For about 2 hours, venture into a dense forest and climb 14 meters on a journey filled with strong emotions.
You'll feel the thrill of traversing through towering trees, free-falling Tarzan Swings, and long, fast zip-line slides.
This is a fun outdoor activity for young ones and adults, consisting of 44 treetop activities, divided into 4 obstacle sets, which always end with a 200 m zip-line slide. It's aimed at young people and adults that are 1.40m tall or more.
Enjoying the moments of stress and adrenaline can extend the duration of the Mega Circuit.
See below for some restrictions applied.
Mega Circuit
16,50€/pax
under 18 years old (mandatory follow-up by adult or hiring monitor)
Monitor
15€
(See supervisory ratio – reservation required)
Family Package
55€
Parents and 2 children, Father/Mother and siblings, or 4 siblings
Supervision Ratios
1 Adult (+ 18) – 2 Young minors
1 monitor Adventure Park – 8 young minors (15€)
To do the Mega Circuit, young minors need the authorization and signature of a legal guardian, even if an Adventure Park monitor is required for follow-up during the activity. Minors are supervised by adults (18 years and older) and never from the ground. A participating adult can supervise up to two younger children.
Estupendo para disfrutar com niños, o mejor dicho como niños. Dispone de un circuito básico el cual pude hacerlo cualquier niño sin muchos problemas, tienen un circuito avanzado com más soltura y más dificultad.
One of the best places to have fun in Lisbon. A completely different experience! It has activities for children and grown-ups.
I would definitely recommend it! Bring old clothes as at bottom of Ziplines it gets a little dusty. Quite a workout too but accessible to those who are less fit also. Guides are very friendly and safe. I would go again.
Amazing place! Exactly what an adventurous place should be!
Offer a gift voucher to whom you like!
A perfect gift to friends, family, and colleagues.
Offer adventure and an unforgettable experience!
Buy Gift Voucher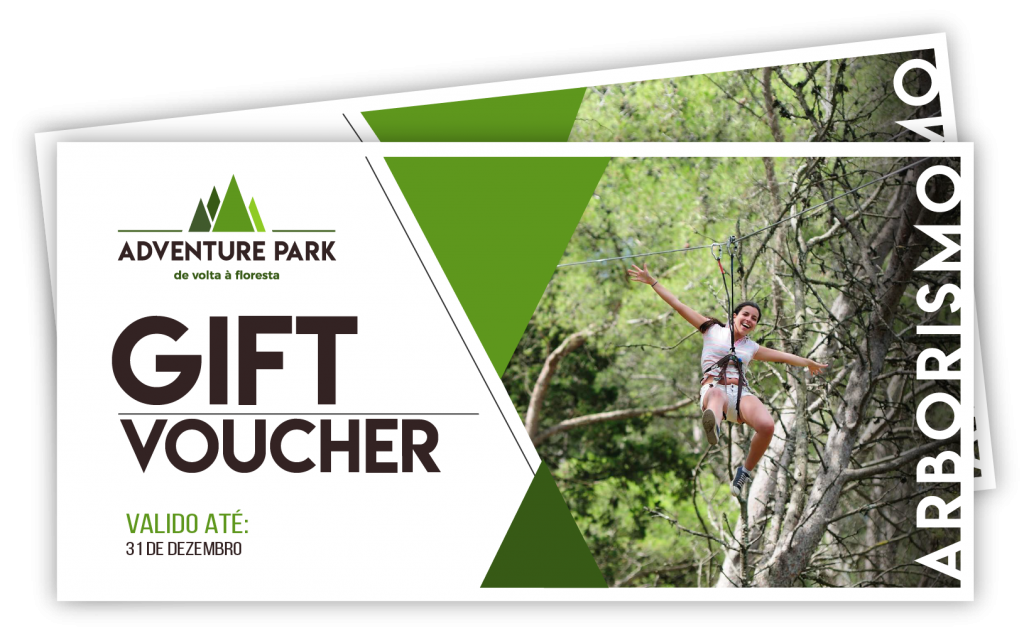 Buy Gift Voucher